CRK Training Stable is an approved vendor with iLEAD and Sage Oak Charter Schools.
Home School Horsemanship Lessons-
Horsemanship students will learn about safety around horses, how to catch, lead, groom, saddle, bridle and
RIDE

horses. First lesson in un-mounted.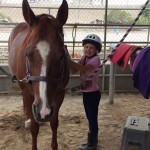 Students may choose either English or Western riding style. Horsemanship lessons are by the month only. CRK stable will not bill home school charters for partial months or individual lessons. All 4 lessons, including any make-up lessons, must be completed within a one calendar month period. A regular lesson schedule is required with one schedule change allowed per month. For more information see our lesson policy. Students must supply correct riding attire, but boots and helmets are available to borrow.   For more information about attire go to- http://crktrainingstable.com/lesson-program/required-riding-attire/.   Students are encouraged to purchase the optional CHA riding manuals and complete the homework and tests. CHA Manuals $20.00 each level.  CRK Stable may substitute non-riding, ground or lecture-type lessons if weather conditions do not permit safe riding.
Horsemanship programs available for Home school students-
            4- 30 minute lessons monthly for Jr. riders (5-7 years old). $130.00 mo.
            4- 60 minute private lessons monthly for riders 8 years and up. $245.00 mo.
            4- 90 minute group lessons (3-5 riders/one instructor) for riders 8 years and up. (Intermediate riders and up. Not for beginning riders. Instructor approval required) $180.00 mo.