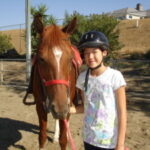 So, you're ready to start! But where do you begin? If you haven't read "How to Choose A Riding Program" yet, start there. Here's the link- http://crktrainingstable.com/lesson-program/how-to-choose-a-riding-program/  If you have already read the article, call us at 714-693-4886 to make an appointment to watch a lesson. Try to pick a lesson at your level.  Schedule some time after the lesson to talk with the staff about your needs, goals and to get all your questions answered.
Guests are welcome to drop in during business hours, but we may be busy with another student, working a horse or be off the ranch running errands. Making an appointment will ensure that you will get the information you need. We are a family run business with no full time office staff, so calls must usually be returned at a later time. We make every effort to return calls within 24 hours, often in the evening after lessons are done.
Once your have decided to join us, schedule your first lesson. If you complete all the paperwork and make your payment in advance,  your lesson will be entirely devoted to learning!
You'll need to pick a riding style- either English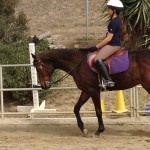 or Western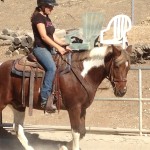 . If you don't know which one is best here's some info on that- http://crktrainingstable.com/?s=whats+a+riding+style.  You'll also need to buy some boots. We will allow you to ride with safety stirrups or we have some boots you may borrow as you try it out. After your first month of lessons, you will need to purchase your own boots. Here's some info on what to buy and where to buy them- http://crktrainingstable.com/lesson-program/required-riding-attire/
A trial lesson is a good  place to start. You'll learn about safety, groom a bit and ride. This will give you a very good general idea how the lessons work. However; if you are ready to jump in, sign up for the monthly plan. You'll be guaranteed a lesson time each week and save some money as well!
If you have extensive riding experience schedule an evaluation lesson. (Sorry, but we don't consider a trail ride in Yosemite three summers ago or a week of horse camp to be extensive riding experience. We are looking for a year or more of recent lessons.)  Once we determine your riding level and future goals, we can recommend the appropriate program for you. The evaluation includes up to 60 minutes of horse time and up to 30 minutes of consultation time with the instructor. You will be expected to catch, groom and saddle the horse in addition to riding, so if you aren't proficient with those tasks, plan on a private lesson program.
    So give us a call and start on your equestrian journey today!  714-693-4886
Please keep in mind that we are often out of the office teaching or riding, so plan on leaving a message. We make every effort return calls daily, often in the evenings. We are closed on Thursdays and Sundays.