CRK Training Times
Bits of News For Horse People
August 2015
Important August Dates~
Aug. 1-6- Cheryl's Vacation
Aug. 10-14- Summer Camp
Aug 30- Group Lesson Make-up Day
Important September Dates~
Sept. 27- Group Lesson Make-up Day
Important October Dates~
October 22-25- CHA International Conference.- Cheryl, Steve & Athena will be continuing their education by attending this conference. All lessons will be cancelled during this time.
 No Lesson Days~
          Cheryl & Steve will be taking some time off August 1-6, 2015. The lesson schedule will be modified during this time. If your lesson has been cancelled, it will show as a credit on your statement. If it hasn't been cancelled, it will be taught by Athena. If you have any questions or wish to change your lesson during this time, please call the office before July 31, 2015. Thank you for your understanding.
Summer Ranch Camp~
Ride Gentle Horses
Learn Horse Care
Create Cool Crafts
Learn About Ranch Animals
8:00am -12:00 noon
Enjoy Ranch Life
Yummy Snacks Included
Bring Your Friends! Games, Fun and Horse Hugs Too!
Only One Session Left! Only 3 spots still open! #8- August 10-14
Camp Fee- $395.00. Limited to 8 riders per session, 4 per class. Registration forms available online at- www.crktrainingstable.com
YLCR Horse Show~
            This year's annual Yorba Linda Country Riders show was loads of fun! We had several CRK riders compete this year. Maggie made the trip for the first time and was she a trouper! She was a bit excited in the morning, but quickly settled and was a winning mount for both Suze Carragher and Kate Clifton. Suze & Maggie competed in 3 events taking home 2 firsts and a 3rd. This was good enough to give them the Overall Highpoint for their division! Kate then took up Maggie's reins for the Leadline class and was also awarded first place!
Our very own instructor, Athena Fosnight, took her baby boy, Cruiser, and competed in the English division. They took home several first and second place ribbons. Their placings were good enough to earn them the Reserve Champion award for the day.
Excellent job everyone! Thanks for making CRK look so good!
For Lease~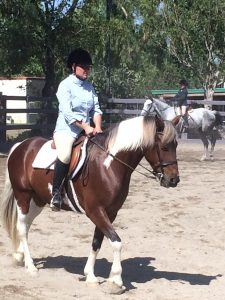 Too Hot 4 My Spots a.k.a. Charlie- Bay Tobiano, Pinto pony gelding, 13 years old, 13.3 hands, 900 lbs. Well trained English, currently competing well in cross-rails and ready to move up. Completely sound, good ground manners, bathes, ties, trailers, UTD on everything and getting better at clipping. Extensively trail ridden before we bought him, but not in the past year. Not a beginner pony because he has some go to him. Very well suited for an intermediate- advanced rider. Charlie is very stocky and easily handles adult riders. Lease option available onsite only with lessons. You must be proficient at walk, trot, and canter in order to lease at CRK.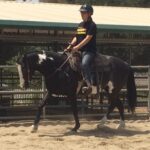 CC Sheza Royla Robin a.k.a. Penny- Black Overo Paint Pony mare, 16 years, 14.1 hands. Well trained both English & Western. Wonderful ground manners, clips, bathes, ties, trailers. Has shown pony club in the past. Very well suited for advanced beginner – advanced rider. Onsite partial lease only with lessons. You must be proficient at walk, trot, and canter in order to lease at CRK.
            Lease terms & fees~ Riders may lease a horse for either a morning or afternoon session. You must be proficient at walk, trot, and canter in order to lease at CRK. Halter and lead provided. Riders must provide their own tack including saddle, bridle and grooming equipment. All care of the horse including board, feed, shoeing and vet care provided by CRK Training Stable. All leasers must participate in at least 1 riding lesson per week on the leased horse at the normal lesson rate. Horse may not leave CRK Training Stable grounds. Other restrictions apply. Contact the office for compete details and to lease your favorite horse today!
1-1/2 day per week- $125.00 month + lessons fees.
2- 1/2 days per week- $210.00 month + lessons fees.
3- 1/2 days per week- $300.00 month + lessons fees.
 Social Media~
CRK Training Stable is very active in social media, posting blogs, weather related lesson cancellations, events, etc. on Facebook and LinkedIn. Please like the CRK Training Stable Facebook page and look Cheryl up on LinkedIn. Certified Horsemanship Association(CHA) Region 10 also has a Facebook page. If you are interested in what CHA Region 10 has to offer, be sure to like that page as well.
Many new customers find us through Yelp. Please help us keep the new clients coming in by writing a recommendation for us there. Thank You!
Hot Weather Reminders~     
           As we get further into summer, the days will be getting much warmer. Some days will be downright HOT! Lessons will run as usual on hot days, so be prepared. Bring some water and wear a hat while grooming. If you want to reschedule your normal lesson time for a cooler part of the day, please do it well ahead of time. Lessons won't be rescheduled on the day of the lesson because it is hot. If it's too hot to ride, we may substitute or you may choose an un-mounted lesson. A favorite on hot days is horse bathing. Just make sure you wear clothes that can get wet!
If your CRK Stable school horse gets sweaty during your lesson, you must either hose or sponge them off. Tack should also be wiped down with a damp towel to remove sweat that can damage the leather. If you don't know how to do these tasks, please ask. We will make sure it's included in your next lesson.
Please remember correct riding attire, including a sleeved shirt. If you are not wearing proper attire, you will not be allowed to ride. Closed shoes are also required in the barn areas. This rule applies to everyone, parents included! If you forgot to change out of your flip-flops, please remain in the spectator areas. Thank You!
August Make-up Lessons~
          August group make-up lessons will be held on Sunday, August 30, 2014. If you miss a group lesson in August, please contact the office to schedule your make up lesson. You must sign up to ride.
Quotable Quotes~
"Concentrate all your thoughts upon the work at hand. The sun's rays do not burn until brought to a focus." – Alexander Graham Bell
 "To change one's life: 1. Start immediately. 2. Do it flamboyantly. 3. No exceptions." – William James
 That's All For Now~ We hope you have enjoyed this newsletter. If you would like to be removed from the list use the unsubscribe at the bottom of this email. If you have any questions contact Cheryl directly at
E-mail at: CRKStable@aol.com.
Web Site: www.CRKTrainingstable.com
or snail mail at:
18245 Bastanchury Road
Yorba Linda, CA 92886
or phone (714) 693-4886
That's all folks!