CRK Training Times
Bits of News For Horse People
June 2015
Summertime!
Important June Dates~
June 7-12- CHA Instructors Clinic- No Lessons
June 14- Free Open House
June 15-20- Evaluation week
June 21- Fathers Day- No lessons
Summer Solstice
June 22-26- Summer Camp
June 29-July 3- Summer Camp
Important July Dates~
July 4- Independence Day- No Lessons
July 6-10- Summer Camp
July 12- YLCR Horse Show
July 13-17-  Summer Camp
July 20-24-Summer Camp
July 27-31-Summer Camp
No Lesson Days~
Lessons will be cancelled on the following days. Your account will be credited unless you would prefer to make up your lesson. If so, please contact the office to re-schedule. Thank you for your understanding.
June 7-12- CHA Clinic June 14- Fathers Day
June 28- Horse Show
July 4- Independence Day
 CRK Training Stable offers FREE Open

House

Barn Event~
A FREE Open Barn Event will be held on Sunday June 14, 2015 –  2:00-5:00 PM at CRK Training Stable.  Help us keep the love of horses going strong by bringing your non-horse owning friends, family and neighbors for a FREE fun day at the ranch. We will have- All About Horses Class, Grooming & Saddling demonstrations and FREE RIDING LESSONS! A petting zoo and scavenger hunt will also be open. Discounts for summer camp will be available. Save up to $50.00!
All completely FREE!
Oh, did I say it's FREE? Because it is!!! Here's the fine print- You must provide a your full name and a valid email address to participate. Email addresses must belong to a newcomer 13 years of age or older. CRK Training Stable will submit email addresses to the Certified Horsemanship Association and/or Time To Ride Challenge and/or The American Horse Council for the purposes of competing for an award.  Email addresses will not be sold nor made commercially available. You may be contacted by those organizations to determine that you actually attended a Challenge event. Riders must be 6+ years old, under 195 lbs., able-bodied, wear shoes that fully enclose the feet and long pants. A Liability Waiver must be signed by an adult parent or guardian. Riding helmets will be provided and are required. The number of riding lessons given each day will be limited and only available on a first come-first served basis. Any award of cash or prizes won shall be the sole property of CRK Training Stable and it's owners- Cheryl Rohnke Kronsberg and/or Steven Kronsberg.
But it's completely free!
For more information call 714-693-4886 .  To learn more about the Time to Ride Horse Challenge, visit www.timetoride.com.
We will be needing volunteers to help with these events. If you are available to help out, please let us know! Thanks!
 YLCR Horse Show~
          Every year our local riding club offers a horse show. It is open to all levels of riders with classes ranging from the un-mounted Halter and Showmanship classes to riding classes such as- Walk/Trot  and Walk/Trot/ Canter equitation and pleasure.
If you would like to borrow a CRK horse for the day and attend the show, we would be happy to help you out!. This year's show will be held on Sunday, July 12, 2015. Transportation to the show is available, along with coaching, and all the tack you need. You will need to provide your own show attire.
Just let us know if you would like to compete, or just ask for more information. We are happy to help!
Summer Ranch Camp~
Ride Gentle Horses
Learn Horse Care
Create Cool Crafts
Learn About Ranch Animals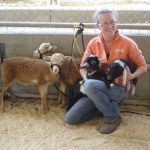 8:00am -12:00 noon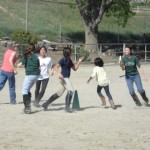 Enjoy Ranch Life
Yummy Snacks Included
Bring Your Friends!
Games, Fun and Horse Hugs Too!
8 Sessions available- #1-June 23-26; #2-June 29- July 3; #3-July 6-10; #4-July 13-17; #5-July 20-24; #6- July 27-31; #7-August 3-7; #8- August 10-14
Camp Fee- $395.00. Limited to 8 riders per session, 4 per class. Discounts Available
Registration forms available online at- www.crktrainingstable.com
Summer Lesson Schedule Changes~
          A new group lesson started in May and spaces are still available. The lesson is held on Saturday at 1:30 pm. This is a level 1 group. Riders must be able to catch, groom, saddle, mount, dismount and ride walk well and have begun trot work. If you are at this level or have been told you are ready to move into a group, please let Cheryl know.
Group lesson students arrive 15 minutes prior to the lesson to prepare the horse, ride the entire lesson and put the horse away after the lesson is concluded. Students should allow 1 hour & 40 minutes for each lesson. Limited to 3 riders. $180.00 by the month only.
Due to summer camp, lessons will no longer be offered on Sunday's beginning in May 31 and continuing for the entire months of June, July and August. If you currently ride on Sundays, please make the necessary changes to your schedule before May 31, 2015. Thank you for your understanding.
 CHA Instructor Clinics~
Several times each year, Cheryl is given the opportunity to educate and certify new riding instructors. These instructor certification clinics are held at various locations throughout the United States. This year,  Cheryl will working two clinics. For the first one, she'll be heading to North Carolina May 24- 29. Sorry for the short notice on this one. Their instructor got sick, so Cheryl is filling in.
The second one will be closer to home in Palomar, California. The Palomar clinic has an extra day, so Cheryl will be away June 7-12.
Athena will handling all Cheryl's lessons May 24-29 with the exception of Tuesday. However, Athena will be auditing the Palomar clinic to continue to advance her teaching skills. Therefore; all  lessons will be cancelled during that week.  Your account has been credited for the lessons that will be missed. However; you are always welcome to make-up your lessons, just call and let us know.
Thank you for your understanding!

Rider Evaluations & Written Tests~  
         All riders will be given written riding evaluations the week of June 14-20, 2015. These evaluations will take place during the normal lesson time. Once you pass your current level riding test, you may sign-up to take the written and practical tests. Sign-up sheets will be in the office. Written and Practical tests will be given on Sunday, June 28.  Riders who pass all 3 tests will receive their certificate and patch and move on to the next level. Remember, if you miss your lesson during evaluation week, you may request a riding evaluation at a different time. Good Luck!
Welcome!
Welcome to these new students who joined us in May- Charlotte, Holly, Aisa, Joyce, Ethan, and Kathlyn. As you can see, we are busy! Please plan ahead when rescheduling your lessons. We may not be able to accommodate changes easily.
Vacation Policy~
          As summer vacation time is upon us, please take note of the CRK Stable vacation policy. As soon as you know your vacation schedules, please contact us so we may give you the proper credit. That way, you won't lose your lesson spot as you are enjoying your time away.
Cancellation & Vacation Policy
No Refunds, credits or discounts will be given for lessons cancelled by clients. Cancelled lessons must be rescheduled or forfeited.
            Cancelling & Rescheduling Lessons–             In the event that a rider is unable to attend a scheduled lesson, notice must be given at least twenty-four (24) hours prior to the start time of the lesson in order to reschedule it. Cancellation messages may be left on the office answering machine or emailed. You must contact us to reschedule your lesson. One reschedule is allowed per lesson. If you cancel your rescheduled lesson, you forfeit that lesson. No more than two replacement lesson days and times will be offered. If you decline both, you forfeit that lesson. You may reschedule only one lesson per month. The replacement lesson must be scheduled within 30 days of the cancelled lesson or the lesson will be forfeited. We will make every attempt to reschedule lessons, but do not guarantee that everyone's schedule can be accommodated.
Vacation Credit- Students who have been in the monthly lesson program for more than 3 months, may take have 4 weeks of vacation credit annually. During the month of your vacation you will not be charged for the lessons missed. Lesson times will be held for students during vacation breaks. Vacation credits will not be granted over the phone. In order to facilitate proper billing, all vacation requests must be made by email or in writing at least 30 days in advance of the vacation. Late requests may be subject to a re-billing fee. Thank you for your understanding.
 Social Media~
CRK Training Stable is very active in social media, posting blogs, information about lesson cancellations, silly, fun videos of the horses, events, etc. on Facebook and LinkedIn. Please like the CRK Training Stable Facebook page and look Cheryl up on LinkedIn. Certified Horsemanship Association(CHA) Region 10 also has a Facebook page. If you are interested in what CHA Region 10 has to offer, be sure to like that page as well.
Many new customers find us through Yelp. Please help us keep new clients coming in by writing a recommendation for us there. Thank You!
June Group Make-up Lessons~
         The June group make up lesson will be held on Sunday, June 28, 2015 at a time to be determined.  If you have missed a group lesson, please contact the office to schedule your make up lesson. You must sign up to ride.
Quotable Quotes~
"There are no shortcuts to any place worth going." – Beverly Sills
 "In this age, which believes that there is a short cut to everything, the greatest lesson to be learned is that the most difficult way is, in the long run, the easiest." – Henry Miller
That's All For Now~ We hope you have enjoyed this newsletter. If you would like to be removed from the list use the unsubscribe at the bottom of this email. If you have any questions contact Cheryl directly at
E-mail at: CRKStable@aol.com.
Web Site: www.CRKTrainingstable.com
or snail mail at:
18245 Bastanchury Road
Yorba Linda, CA 92886
or phone (714) 693-4886
or click the unsubscribe button.
 That's all folks!