Bits of New for Horse People

 
Important March Dates~
March 11- Daylight Savings Begins
March 17- St. Patrick's Day- Wear CRK Green!
March 18- Mira Loma Schooling Show
March 20- Spring Begins!
Important April Dates~
April 6- Good Friday
April 8- Easter Sunday
April 15- YLCR Show
April 16- Federal Tax Day
April 22- GSPA Show
April 28- Hi-Desert Pinto Show
April 29- Chino Hills Open Show
 ________________________________________­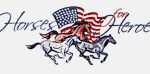 HORSE4HEROES MAKES HORSEBACK RIDING AFFORDABLE.
            Horses4Heroes wants you!  Horses4Heroes was created especially for the families of military personnel, veterans, fire fighters, law enforcement officers, critical care and hospice nurses and other heroes in our community!  If you or your kids love horses, this is the program for you!
            Founded in 2006 and based in Las Vegas, Nevada, Horses4Heroes, Inc. is enriching lives and empowering local youth and their families by offering able-bodied, affordable horseback riding programs that emphasize fun and safe activities with horses, mounted and un-mounted for all ages.  Participants learn valuable leadership and teamwork skills, make new friends, and develop a lifelong love of horses!
            For more information, call (888) 987-4376 (9US-HERO) or visit our Web site at www.horses4heroes.org. 
            CRK TRAINING STABLE is proud to be the newest program member of HorsesforHeroes. If you are a hero check us out. Or if you know someone who is a hero have them call today!
_______________________________
 

Show Group~
          Show season will soon be upon us. Make sure you are working toward your goals so you will be ready to compete! Openings still exist in the Show Group Fridays at 4:00pm. This group lesson included showmanship and riding skills with an emphasis on showing. $180.00 month.
            Beginning in March riders may take an additional 1/2 hour lesson to allow for more time to work on equitation and patterns. Cost for the 1.5 hr class is only an additional $55.00 per month.  That's less than $13.00 per week! Be sure to let Cheryl know if you will be signing up for the additional 1/2 hour lesson.
___________________________________ 
 M
arch Trivia Challenge~
Answers to the March Challenge question will be given during the How to Buy A Horse Class- For more information on how to attend this FREE class, see below.
            Name 10 thing you should know about a horse before you buy it.
February Trivia Challenge Answers~
Where is the Gullet on an English Saddle? Under the pommel next to the horse.
T or F- Leather should never be allowed to get wet. False
 How many "Irons" does a saddle have? Two
Why are English and Western saddles different? Due to their intended use and where they were created.
Name as many parts that have the same name on both English and western tack. Stirrup, skirt, seat, pommel, gullet, cantle.
What is a "split rein"? A type of rein used in western riding. It is made of two separate reins 6-8ft long.
What is a "throat latch? The part of the bridle that is buckled around the throat latch area of the neck.
Where is the seat jockey? Next to the seat on either side.
What should you do after you clean your saddle? Allow it to dry and then condition it.
How often should you clean your bridle? Every time you use it. Answers will also appear in next month's edition of the times. ______________________________
­­­­­­­­­­­­­­­­