CRK Training Times
Bits of News For Horse People
September 2012
Back To School!
Important September Dates~
Sept. 3- Labor Day- Lessons as usual
Sept. 23- YLCR Obstacle Challenge and Country Faire
Important October Dates~
Oct. 8- Columbus Day- Lessons as usual
Oct. 11-14- CHA National Conference
Oct. 21- Mira Loma Schooling Show
Oct. 31- Halloween- Lessons as usual
Important November Dates~
 Nov. 4- Daylight Savings Time ends
Nov. 11- Veterans Day-
Nov. 11- Mira Loma Schooling Show
Nov. 22- Thanksgiving Day- NO LESSONS ____________________________________
NO LESSON DAYS~
No lessons will be held on the following days. Your account will be credited. Please make a note of it. Thank You!
Aug. 26- CHA Region 10 Conference
Sept. 23- YLCR Obstacle Challenge & Country Faire
Nov. 22- Thanksgiving Day
___________________________________________
International Conference-
          The CHA International conference will be held in Silverton, Oregon, just one hour outside of Portland, on October 11-14, 2012. Just like the regional conference, many speakers and other classes will be available for the attendees to participate in. This event is open to the public and meals are included. For more information please go to-http://cha-ahse.org/store/pages/47/International_Conference.html
 __________________________________________
 Horse Show News~
August 5th was the final YLCR horse show of the 2012 season. The CRK Show Team consisted of- Sheridan Pipkin both on Holly, Caroline Ong on Chewie and Athena Williams on KT. Everyone placed well in classes that were very large by today's show standards. Sheridan won English Reserve W/T 12 & over High Point while Athena took home English 18 & over High Point.
The next show for the 2012 season will be the October 21st Mira Loma Schooling Show.
 __________________________________________
New Group Lessons~
            Beginning in September the following new group lessons will be offered. If you would like to join one of these groups be sure to contact Cheryl to see if you are eligible.
            Level 1 Group- Mondays 3:30-4:30 pm.
            Level 3+ Show Group- Fridays 4:30-5:30 pm
The following group lessons will continue as usual-
            Level 2+- Tuesdays 9:00-10:00 am
            Level 2+- Saturdays 9:00-10:00 am
            If you have a class or group type you would like to ride in, please let Cheryl know. We will do our best to make it happen.  
                        Thank You!
 ___________________________________
Welcome!
            We would like to introduce two new barn members. Our first new companion is- Art I Famous, aka Famous. Famous is an appendix AQHA(QH & TB Cross), bay, 8 yr old gelding  who will be Caroline Ong's new partner.  Look for them in the shows later this year. At 16.2 hands, he will be kinda hard to miss!
            Our other new barn member is Mos Extordinaire, aka Oscar, who will be taking on the role of lesson and show horse for CRK students. Oscar is an AQHA bay gelding ( I sense a theme here), 15 hands, 15 years old with an impressive show record. Oscar is accompanied by his owner, Vicky, who will be partial leasing him to CRK stable. Vicky will retain ownership of Oscar and take lessons on him as she continues her equestrian journey.
___________________________________________
Good-bye~
          It is with sadness but immense pride, that I must report that our amazing Asst. Barn Manager, Chris Torrez, (aka Cheryl's son) has left CRK for a career in the Air Force. Chris left Yorba Linda to report to Lackland Air Force Base in Texas on August 14, 2012 where he began Air Force Basic Training.  After graduation, Chris will report to yet another base for "Tech School" where he will be trained for his future job in Administration. After completion of Tech School, Chris will have the opportunity for a home visit before he reports to his first duty station, at an Air Force Base yet to be determined. We all wish him luck on this bold new adventure. If you wish to write to Chris while he is away, ask Cheryl for the address. I'm sure he would appreciate any and all letters from home.
More Good-bye~
          As often happens, CRK students will outgrow their equine partners as they continue to improve and progress in their riding. That is yet again the case with Chewie and Caroline Ong. Chewie has moved to Great Horses of America where he will be get a new partner who can learn all the great skills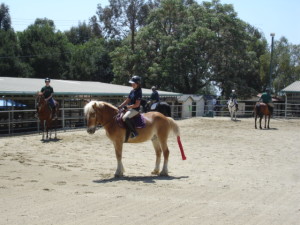 Chewie has to teach.  We all wish Chewie luck in his new home!
__________________________________________
Quotable Quotes~
It is the nature of man to rise to greatness if greatness is expected of him." – John Steinbeck
"The real art of conversation is not only to say the right thing at the right place, but to leave unsaid the wrong thing at the tempting moment." – Lady Dorothy Nevill
___________________________________
That's All For Now~
We hope you have enjoyed this newsletter. If you would like to be removed from the list or have any questions, please contact Cheryl directly. She may be contacted by E-mail at: CRKStable@aol.com
Web Site: www.CRKTrainingstable.com
or snail mail at:
18245 Bastanchury Road
Yorba Linda, CA 92886
or phone (714) 693-4886
That's all folks!